Taylor Burton Inducted Into Alabama Building Industry Hall of Fame
BIRMINGHAM, ALABAMA -- Taylor Burton of Birmingham has been inducted into the Alabama Building Industry Hall of Fame, the highest honor presented by the Home Builders Association of Alabama (HBAA). The induction ceremony took place during the HBAA's Annual Convention awards banquet on Friday, October 25, 2019, at the Hilton Nashville Downtown in Nashville, Tennessee.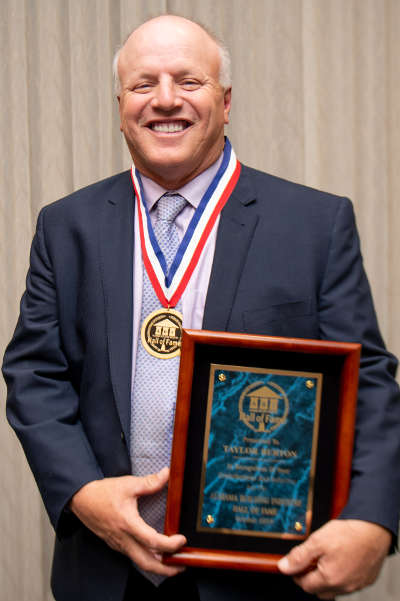 Burton, the President of Taylor Burton Company, Inc., began serving on the Greater Birmingham Association of Home Builders' Board of Directors in 1994 and has been actively involved ever since. While chairing the GBAHB South Chapter, he led a public relations campaign that helped lead to increased sales in the area. He served as GBAHB President in 2001. In 2006, he served on the GBAHB by-laws review committee.
At the state level, Burton has served as the HBAA's Public Relations Committee Chair, State Past Presidents Council Chair and the Alabama Home Builders Foundation President. He was on the Hall of Fame Selection Committee from 2016 to 2018 and has served on the HBAA Nominating Committee since 2014. In 2013, Burton served as HBAA President.
"We are so proud for Taylor. We love to see our members recognized for their accolades. This award is so incredibly deserving," said Alicia Vincent, Executive Director of the GBAHB.
For more information about the Home Builders Association of Alabama, call (800) 745- 4222 or visit www.hbaa.org. For more information or to schedule an interview with a representative or member from the Greater Birmingham Association of Home Builders, please contact Heather Jeffcoat at 205-515-1972 or by emailing hjeffcoat@burtonadvertising.com
###
The GBAHB is the sixth largest local homebuilders association in the nation, representing more than 1,300 members in the Birmingham area. For more information about the GBAHB call 205-912-7000 or visit www.birminghambuilder.com. To interview a representative from the GBAHB contact Heather Jeffcoat at 205-515-1972 or by emailing hjeffcoat@burtonadvertising.com